3 Steps For Sticking to Your Home Improvement Resolutions. 
Feeling unmotivated to finish, or maybe even get started on your plans for a Home Improvement project? It's easy to come across road blocks, or just simply become overwhelmed in this process. Especially if you are DIYing the whole thing. What could be fun treasure hunt for some, can easily become a burden of a half-way done project for others.
Fear not! We have 3 streamlined steps to keep you moving through such a large process. Regardless if you are Doing It Yourself or looking to hire.
So grab your patience and your dedication, and let's get to work!
Step 1: Declutter
This is the first and most important step. It's 2023. Holding on to items for the purpose of " I might need it later" is extremely outdated, and, to be honest, bad for environment.
Start organizing, donating or repurposing items room by room. For those with a busy schedule, save the big rooms for the weekend or when you have a lot of time to spend sorting. Chip away at the smaller areas like closets and bathrooms first, while you have a few moments during the week.
A good rule of thumb is to donate, sell or recycle (if you can) what hasn't been used in a year. You likely won't need it, and it will serve a better purpose for someone who does. Rather than wasting away in hidden boxes. Sentimental items? Of course, keep them. But if there isn't an emotional attachment or it isn't functional, get rid of it.
There are so many fulfilling ways to donate or sell your items that you may have a hard time tossing. Look up your local women's shelter or veteran's stores and give back to a part of the community in need. If you have items that are high end or valuable and you just can't bare to give it away, consider a local consignment shop. That way you collect a return and help a small business at the same time.
For items that wont be leaving your home, consider looking into organization bins and storage boxes. There are a plethora of options from high to low end, to fit your needs. Some of our favorites are from Amazon, Target, The Container Store, IKEA and Big Lots.
Overall you will feel so much better in a clean, organized space and that will help you continue your journey to a Re-designed home. (And at a great pace too!)
Step 2: Source your Materials and Items
Have an idea of what you want, and stick to it. Create "Mood Boards" or documents with picture references, examples and pricing of items you want, so that you know exactly what you need and what track you are on. Place to board or binder, in an area where you can see it and reference back to it when needed. Avoid going off the rails as much as possible, especially if you're on a tight budget. Keeping yourself organized at this point of the process is a huge help, when it comes to planning your re-design.
Some of our favorite stores to reference and purchase from are Richelle's Furniture LA, Wayfair, Home Depot, Floor & Decor, Crate & Barrel, and Pottery Barn.
Here is an example of a Mood Boards/ Design Concept that we can help you create or you can put together yourself.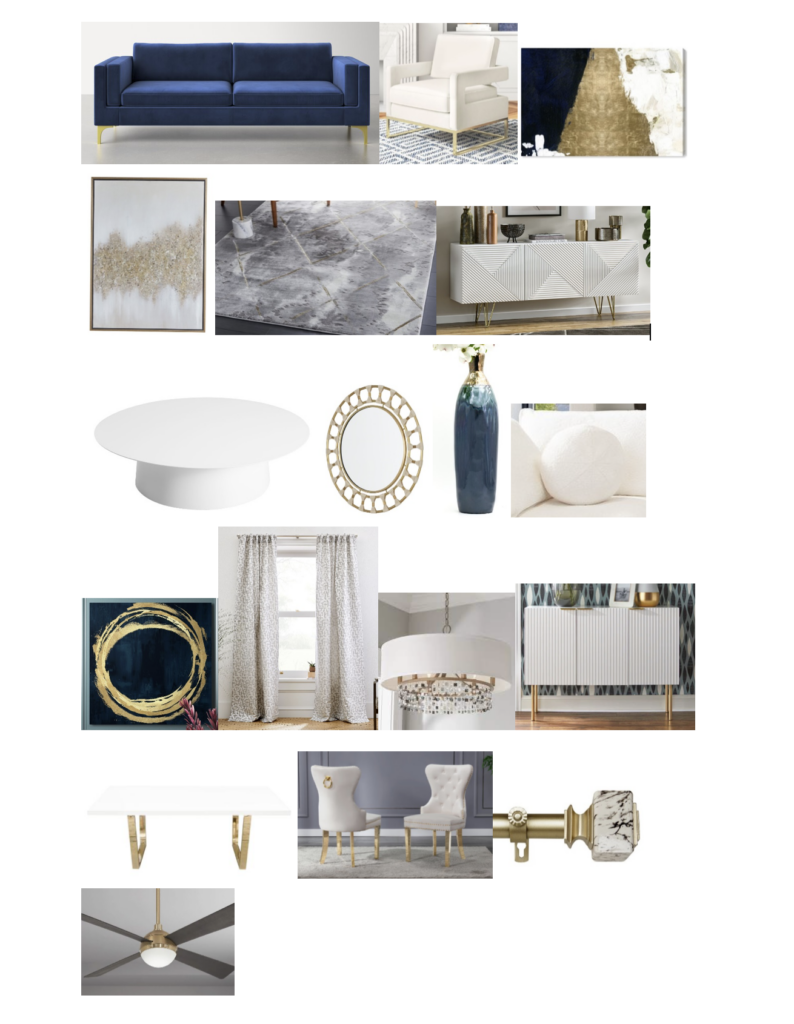 STEP 3: Hire Professionals
By this point, you might be burnt out, and ready to walk away. The amount of options that are available can be overwhelming and exhausting by the time you get it all sorted out. This would be a great time to hire professionals to assist you in major renovations, and an interior designer that can help you space plan. Hiring a professional will truly make your home, your very own sanctuary. 
LA Home Staging and Design is an all inclusive company that offers a fully customizable menu of Re-Design and E-Design Services. We have qualified vendors for home improvements, so that you don't have to spend hours pricing multiple companies. We also offer stunning design concepts, space planning, ordering and installation of home decor, to help you achieve the home you've always wanted. 
We want the experience of Re-Designing your home to be easy and enjoyable. Let us do the grunt work, while you reap the joy of a fresh new space.