Our Amazon Home Favorites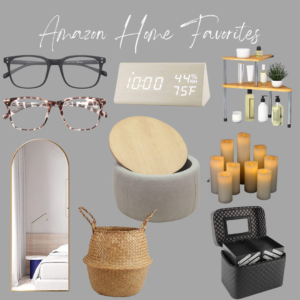 Amazon is a great place to find some products and deals if you don't have the time to go searching and shopping. We compiled a list of some of our favorite Amazon products so you don't have to go looking for them.
Round Ottoman with Storage: With this ottoman/table, you can easily store blankets, toys, or extra items that you may not want laying around your living room. The flat, hard surface can be perfectly used as a table as well. It has a simple and modern design, which makes it easy to style with any kind of living space. 
Countertop corner organizer: This countertop storage organizer is great for the bathroom or kitchen. Store your everyday bathroom products, seasoning, or anything you may use on a day-to-day basis and want it to be easily accessible. You can also find another great countertop corner organizer if you click here.
Flameless Candles With Timer: These energy-saving LED candles with a timer are perfect for the evenings at home to avoid using electricity and protect from the dangers of a flame. 
Woven Seagrass Basket: This handmade, woven basket is great for storage, and use as a laundry, picnic, or grocery basket.
Arched Full-Length Mirror: This modern and contemporary full-length mirror is great for the bedroom or living room. It is made with excellent quality and is easily installable.
Four-Layer Foldable Makeup Box: The four-tray design makes it easy to use this box at home with all your products, and fold it up when traveling. It's more lightweight than an aluminum make-up bag and comes with a built-in mirror.
Two-Pack Blue Light Glasses: These blue light glasses are perfect for alleviating visual fatigue and discomfort from long periods of web surfing, gaming, and working under fluorescent lights with UV400 protection and glare reduction.
Digital Alarm Clock: This alarm clock allows you to either set two or three alarms to better WAKE you up. One for you and the other for your families. Forever Say no to delay. Also, it allows you to set weekday mode, which will ring only from Monday to Friday. It's not only a clock but also a great decoration for your bedroom.