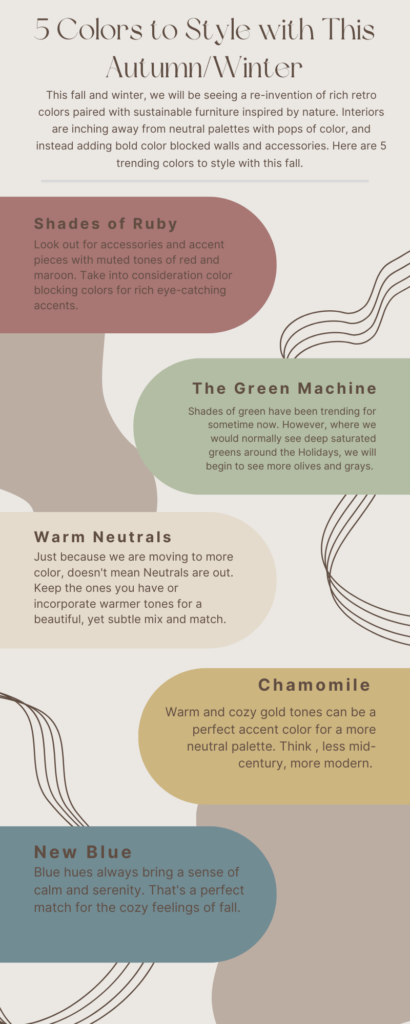 The world is getting its color back, folks! The past few years have seen monochrome combinations of neutrals and organic decor. While trends show that the organic and sustainable decor and furniture, wont be going anywhere, anytime soon; we will be seeing much a more predominate existence of color.
Rich and beautifully toned "retro-like" colors are making there way into the scene. We have already seen the emergence of maximalism in the past few years, but these trending design moves are leaving plenty of room for the minimalists. Color blocked walls, neutral furniture and textured patterns. Mix the 3 and you won't go wrong, no matter your decorating preferences.
Here are some of the colors that are trending as well get further into Fall/Winter.
Shades of Ruby
Look out for accessories and accent pieces with muted tones of red and maroon. Take into consideration these beautiful color blocked walls featured in Home & Gardens.
The Green Machine
Shades of green have been trending for sometime now. However, where we would normally see deep saturated greens around the Holidays, we will begin to see more olives and grays, like in this gorgeously made up bedroom. 
Warm Neutrals
Just because we are moving to more color, doesn't mean Neutrals are out. Keep the ones you have or incorporate warmer tones like the ones seen in the glorious kitchen featured in this blog.
Chamomile
Warm and cozy gold tones can be a perfect accent color for a more neutral palette. Think , less mid-century, more modern, like this throw pillow selection from Crate and Barrel. 
New Blue
Blue hues always bring a sense of calm and serenity. That's a perfect match for the cozy feelings of fall. Check out these stunning blues that have been incorporated into this space.
There are so many different ways you can style your home and incorporate some gorgeous color. If you need even more inspiration, please take a look at my gallery page, or contact me for more information on my Re-Design Services